In this section:
Our Honorary President, Rodney Newton
Our conductor, Christopher Lawrence
Our players
Honorary President: Rodney Newton
We are delighted that Rodney Newton (MA PhD ALFS Hon. RBC FRSA) is the band's Honorary President.
RODNEY NEWTON was born in Birmingham in 1945 and received his initial musical education at Birmingham School of Music (now Royal Birmingham Conservatoire, of which he is an Honorary Member). In 1967 he joined the BBC Training Orchestra in Bristol as a timpanist and percussionist, leaving at the end of 1969. After a short period of freelancing from the Midlands, he moved to London and in 1974, joined the orchestra of Sadler's Wells Opera (now English National Opera) where he remained for eleven years, the last five as principal timpanist. During this period he began to compose prolifically in all genres and worked in music publishing, acting as part-time promotion manager and editor for United Music Publishers, introducing George Lloyd to the company and creating the first corrected edition of Havergal Brian's massive Gothic Symphony.
In 1985 he left ENO to work in films and television as a composer, arranger, musical director and music consultant, working in these capacities for Paramount Pictures, BBC Television, Thames Television and S4C, whilst still active as a 'guest' player with the LSO, LPO, the English Chamber Orchestra, the Royal Opera Orchestra, London Classical Players, the Academy of Ancient Music and the Orchestra of the Age of Enlightenment. He also entered the world of higher education and from 1996 to 2000, he was a member of the composition department of London College of Music, where he taught at undergraduate and postgraduate levels, and a guest lecturer at the Royal Academy of Music, Trinity College of Music, City University and the National Film Theatre. For 22 years he was Music Consultant to London Film School (of which he is an Honorary Associate) and has contributed to radio and television programmes.
In the late 1980s he became heavily involved with brass and wind bands, notably the famous Fairey and Cory bands with which he held residencies. He was responsible for the brass band arrangements for Jeremy Deller's Acid Brass project (which helped to gain the artist the 2004 Turner Prize) and was Features Editor for British Bandsman magazine for nine years. He was civilian Arranger-in-Residence with the Band of the Coldstream Guards for six years and his music has also been played and recorded by the Central Band of Royal Air Force, the Band of the Royal Marines and the Band of the Royal Norwegian Navy. In 2008, he was elected to a Fellowship of the Royal Society of Arts and over the last ten years, gained an extra-mural MA with a distinction and a PhD in musical composition through Salford University. In 2009, the BBC devoted a whole edition of its Radio 2 programme, Listen to the Band, to him and his music and in 2010, he was a member of the panel of judges for the Ivor Novello Award for film music. In 2016, his First and Fourth symphonies were recorded by the Malaga Philharmonic Orchestra conducted by Paul Mann and released on the Toccata Classics label.
He currently remains a freelance composer, arranger and orchestrator and is an external examiner for Salford University.
Conductor: Christopher Lawrence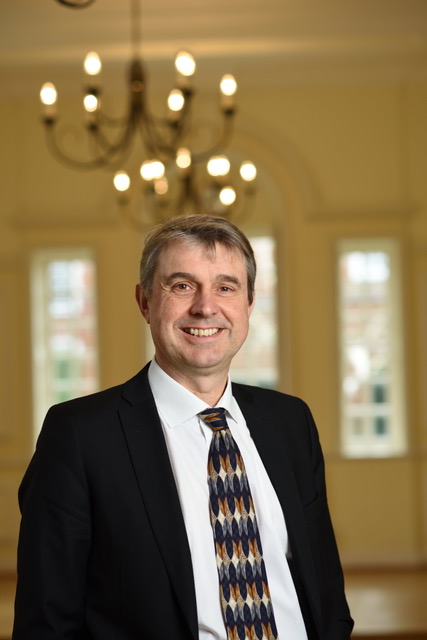 Christopher Lawrence became the conductor of CSD Brass in May 2022. Christopher's journey to CSD Brass was as a tuba player from the world of orchestras and brass ensembles. He was taught by Patrick Harrild from the age of 9 at the Royal College of Music Junior Department, and coached by the legendary John Fletcher in the National Youth Orchestra of Great Britain.
As a Classics student at Cambridge (Queens' College) he played regularly with the University orchestras, performing the tuba concertos by Vaughan Williams, Gregson and Frackenpohl; and in 1984 he founded the Cambridge University Brass Ensemble, which he still coaches today. After moving to London and stints in the Ernest Read Symphony Orchestra, Kensington Symphony Orchestra and Britten-Pears Orchestra, Christopher returned to Cambridge to run the Academy of Ancient Music, while joining Prime Brass and the Cambridge Philharmonic Orchestra. He played regularly in the Cambridge area until a jaw condition forced him to retire from playing the tuba.
Meanwhile, he had founded Junior Prime Brass which he conducted for 10 years, including performances at venues such as the Royal Albert Hall, Ely Cathedral and King's College Chapel. Following Covid, he has turned his attention from conducting brass ensembles to brass bands, which has brought him to CSD Brass.
By day, Christopher is the Bursar of Newnham College Cambridge.
Players
Principal cornet
Soprano cornet
Solo cornets
Kiran Kapur
Joshua Fay
Stephen Roughley
Hannah Adam
Repiano cornet
2nd cornets
Bryan Good
Samuel Cairns
Hannah Palmer
3rd cornets
Sarah Boffey
Melinda Rigby
Peter Edwards
Flugel horn
Horns
Katharine Hutchinson
Jayne Grey
Kathryn Nall
Abigail Perrow
Baritones
Abby Tuck
Alan Huddleston
Alice Clifford
Judith Shelley
Trombones
Bass trombone
Euphoniums
Matthew Bentham
Daniel Tuck
Ross Howarth
E♭ basses
B♭ basses
Percussion
If you're interested in playing, we'd like to hear from you even if you don't see a vacancy on your instrument. We can always use more players. See Joining the band for more information.
Officers and committee
The smooth running of the band is all thanks to several band members who serve on the committee. All posts are elected annually.
Committee Members
Chair: Peter Edwards (3rd Cornet)
Treasurer: Sarah Boffey (3rd Cornet)
Secretary: Kathryn Nall (Horn)
Welfare and Child Protection: Jayne Grey (Horn)
In addition, Tom Yates (trombone) serves as Deputy Conductor. Although this isn't a committee post, it's no less important. The Deputy Conductor ensures the smooth conduct of rehearsals in the Conductor's absence.