7pm, 18th November – Histon Baptist Church, Station Road, Histon, Cambridge, CB24 9LN
It's better to light a candle than curse the darkness…
As the nights draw in, join CSD Brass for an illuminating performance this November 18th. We will be playing a variety of pieces exploring the themes of light and dark, including Peter Graham's "Shine as the Light", Paul Lovatt-Cooper's "Dark Side of the Moon" and an arrangement of "Danse Macabre" by Saint-Saëns.
Doors open at 6:30pm for a 7pm start.
Refreshments available during the interval.
Tickets £8 (under 16s free); please book online.
Contact csdbrass@gmail.com or via Facebook or Twitter for more information.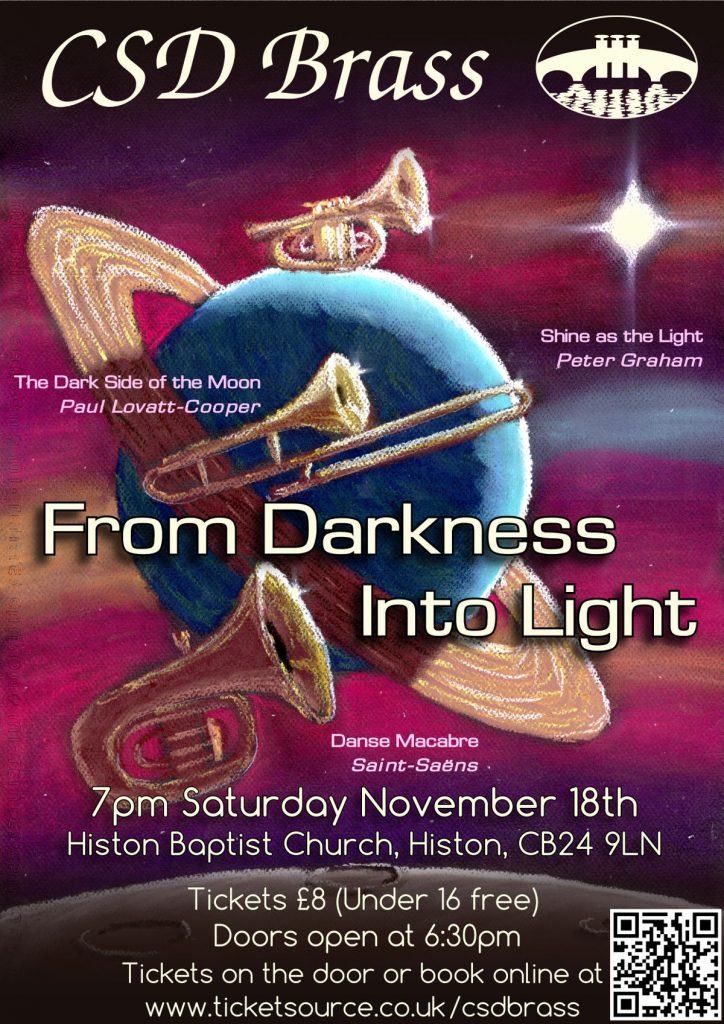 Programme:
Darkness
Black Knight William Rimmer
All in the April Evening Hugh Stevenson Roberton, arr. Eric Ball
Danse Macabre Camille Saint-Saëns, arr. Andy Norman
Stella By Starlight Victor Young, arr Bill Geldard (bass trombone soloist Chris Ashford)
The Dark Side of the Moon Paul Lovatt-Cooper
Light
Star Lake Eric Ball
Light Walk Barrie Gott
Light as Air Goff Richards
Mr Blue Sky Jeff Lynne, arr. Christopher Wormald
I See the Light Alan Menkin, arr. Darrol Barry
Shine as the Light Peter Graham